How to Create Landing Pages that Convert to Leads
Most visitors are impatient and will leave your page within a few seconds of arrival if you don't reinforce their intent with a matching headline and purpose (quickly and clearly).
Your homepage is designed with a more general purpose in mind. It speaks to your overall brand and corporate values and is typically loaded with links and navigation to other areas of your site. It's designed to encourage exploration.
Your landing pages are designed for one purpose only.
Think of the links on your page as leaks. Each link on your page that doesn't represent your conversion goal is a distraction that will dilute your message and reduce your conversion rate.
f we look at an example of a WebTrends landing page, which is focused entirely on a single campaign objective, you'll notice that it has only one call-to-action. Perfect (source).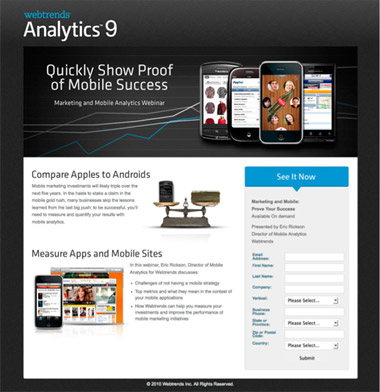 It's immediately clear what you are supposed to do on this page, complete the form to download the data sheet
Your Unique Selling Proposition (USP)

The main headline
A supporting headline
A reinforcement statement
A closing argument

The hero shot (images/video showing context of use)
The benefits of your offering

A bullet point list summary of benefits
Benefit and features in detail

Proof

Social proof (I'll have what she's having)
Trust indicators

A single conversion goal – your Call-To-Action (CTA) (with or without a form)
At FutureDerm Media, we abide by the Inbound Methodology. You are here:
Attract the customer.

Blogging.

Reports/whitepapers with important industry facts and statistics.
Ebooks out of compilations of blog posts.
Checklists/Scorecards for people that like to see how well they are doing and/or benefit from a to-do list.
Blog subscription to receive ongoing content via email or RSS.

Social Media.
Keywords.

Convert the visitors.

Forms and Ads.
Calls-to-Action.
Landing Pages.

Close the leads.

Email.

Include tips and insider info
Include special offers (see Ron's AG emails)

Signals.
Workflows.

Delight the customers and make them promoters.

Events.

Podcasts for people who like to listen & learn during a commute or workout.
Webinar registration for live online sessions, often with Q&A with experts and special guest presenters.
Presentations or recorded sessions including video or slides.
Consultation services or booking meetings for someone to request your time or services.
An ecourse delivered over a period of time – just like the one you're reading now!

Exclusive content for subscribers only.
Social challenges/contests.
For more, read on by clicking any of the posts above!